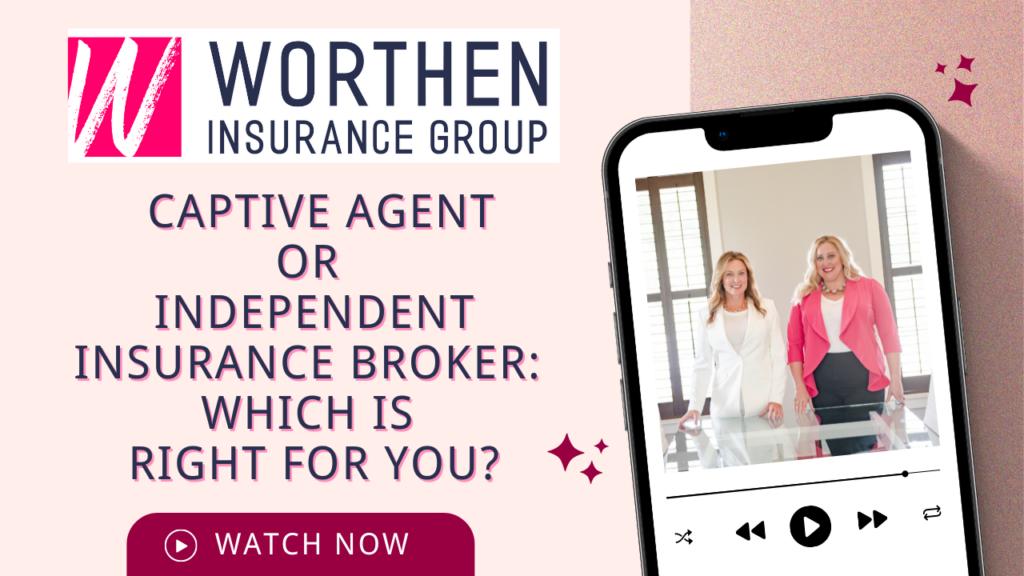 Join Angela Johnson and Caroline Johnson, Independent Insurance Brokers, who were captive agents for the first 16 years of their career. They talk thru the differences between using an online direct writer or 800# call center, a captive agent and an independent agent to secure home, auto or business insurance.
What are the 3 ways to purchase insurance?
You can go with a direct carrier. That is going online or calling into an 800 number call center to get a quote from ONE carrier.
You can choose a captive agent that is a local branch of a large insurance company. The term captive means that they represent ONE carrier.
You can use an independent agent. Some people call them a broker because they represent the consumer and have access to MULTIPLE carriers.
Pros and Cons of Direct Online Carriers or 800# Call Center
Caroline: What are the pros and cons of going with a direct carrier?
Angela: I would say speed is a pro. You can get a quote in the middle of the night when you can't sleep. So that's convenient. You can go online and get your quote. The trade-off for speed, or con, is not understanding the coverages  you selected until it's time for a claim. And then finding out you didn't select the coverages that you need, or that a call center representative was just trying to sell you the cheapest policy so they can make a commission and you don't have the coverages you need to properly protect your assets. Another con is that you have to always deal with an 800# call center going forward as a customer, and most people don't enjoy that long-term!
Caroline: What are the pros and cons of going with a captive agent?
Pros and Cons of Captive Agents
Angela: I would say a benefit for many consumers is that captive agents are local. You can walk into their office and meet face to face. Also, there's a sign outside that you recognize and feel comfortable with because they've spent a lot of money on marketing. You know their jingles and tag lines an that gives the illusion of familiarity.
Caroline: What about cons?
Angela: The con would be that they represent just one carrier. That's what the term captive means. When you're a captive agent and a customer has a concern about their premium, the only thing that you're allowed to do is remove or reduce coverages or raise deductibles to lower the premium. There is nothing else you can do without violating your contract and risk being terminated. It's not a broad look at what's best for you as the client. A captive agent's first duty is to do what's best for the company, which is trying to retain your business even if that means cutting your coverages or raising your out of pocket deductibles. Captive agents are not a consumer's agent, they are an agent for a company.
Pros and Cons of Independent Agents
Caroline: Wow. Okay. Let's talk a little bit about independent agents and how they work. What are their pros?
Angela: For the most part, independent agents are local, although some only work remotely. But generally, you can walk right into their office, meet face to face and talk through your insurance options. Also, when it comes to high quality coverages and companies that are A-rated or better, either on AM Best or Demotech, they generally represent those carriers. They're not tied to one company. Their advice is tailored to you and what is best for you. An independent agent or independent broker's duty is to the customer, not any one carrier. Another thing about price is that the carriers independent agents represent know they are in constant competition with other carriers, so if they do crazy things with price, agents will just stop selling it. So we see more controlled pricing than direct or captive agents can offer.
Caroline: Okay. Interesting. What about cons to going with an independent agent?
Angela: Do you think there are any cons to going with an independent agent? I don't know of any.
Caroline: No, not that I know of. I mean, they have the ability to shop your policy through multiple carriers. They work for you.
Angela: You, not any one company. I think too, because there's so many carriers that they work with, they see the entire insurance market in your region as a whole, and can give better advice about companies, carriers, claims experience and coverages and things like that.
Angela: To wrap up, there are three options consumers have when selecting an insurance solution:
Online or 800 number call center – Direct Carriers advertise a ton on tv, billboards, radio, etc. They are staffed with call center representatives, have broad hours of service, and they give you 1 quote from 1 carrier;
Captive agents – These are big companies that you see advertised on TV and are familiar with, they give you 1 quote from 1 carrier; the agents are agents for the benefit of the company they represent, not the consumer; and
Independent Agents who search the market to find the best policy, carrier and coverage for you; they represent you and their duty is to the consumer
I will just say really quick, you may not have always heard of all of the carriers that an Independent agent is quoting, but that's because those companies don't spend millions and millions of dollars on marketing. They use independent agents to do the marketing and pass that savings on to you. That's just the bottom line. So you may not have heard of some of the carriers independent agents use, but if you're going with a reputable independent agent, they've done the work to make sure that they're representing good quality carriers that you can trust.
We do the shopping so you don't have to! Find out why 98% of our clients stay with us year over year:
Call or Text:        281-819-6619
E-mail:                 service@wortheninsurance.com
Visit:                     wortheninsurance.com/quote
Visit:                     104 Melody Lane
                               Friendswood, TX 77546